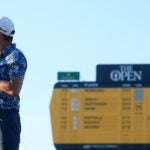 Getty Images
Welcome to a special Open Championship edition of Play Smart, a game-improvement column that (normally) drops every Monday, Wednesday and Friday from Game Improvement Editor Luke Kerr-Dineen to help you play smarter, better golf.
It's ironic that, in capturing a second win in his eighth major start, 24 year-old Collin Morikawa's golf swing is destined to be used as a model for the young golfers of tomorrow. It'll be dissected and analyzed, its component parts disseminated into golf swings everywhere.
It's the fate of every great golfer and the game, on the whole, will be better for it. The irony comes in that those who thrive from Morikawa's influence will be the beneficiaries of an approach that couldn't be more different than the one that worked for the man himself.
When it comes to hard technique, Morikawa's golf swing is undeniably the finished product. He couldn't be the best ball-striker on Tour without it, and coaches will line up to tell you how much they love it. But for Morikawa and his coach, GOLF Teacher to Watch Dr. Rick Sessinghaus, the priority has always been on the softer stuff — the intangibles. They spent countless hours working on technique, but always with an eye on how it would actually help him play golf. It's something that seems so simple, yet for golfers who wade into the weeds looking for their own answer, they often forget what they're looking for in the first place.
Learning to play golf, not golf swing
Sessinghaus, who worked with Morikawa once a week from ages eight to 18 and continues as his coach today, has only used Swing Catalyst with his student once, and says the pair use Trackman very sparingly, mostly just to check up on baseline numbers. That Morikawa doesn't use technology — or, indeed, his coach — as a crutch is a pinnacle all golfers should strive for, he says. But it takes work to get there.
"The ball flight tells us what we need to know," Sessinghaus says. "Since he was eight years-old, we've worked on developing the skills he needs to actually play golf."
Morikawa used his exacting fade to navigate around Royal St. George's on Sunday, but the two-time major champion actually grew up hitting a slinging draw.
"He'd slide his hips a little bit more toward the target, moving the club slightly under plane — he'd have to manipulate the clubface in order to square it up," Sessinghaus, writing…


Read More:Play the game: Collin Morikawa's refreshingly simple approach to golf