Democratic Senate candidate Amy McGrath has accused Mitch McConnell, whom she is trying to oust on November 3, of being out of touch with Kentucky voters, taking aim at his role in the White House administration's coronavirus response.
In an interview on MSNBC following the pair's heated debate, McGrath said that McConnell focused his answers on "Washington, DC politics," and not the concerns of people in their state feeling the effects of unemployment brought on the pandemic—which she said the administration had mishandled.
"I felt that last night he was talking about all kinds of other states, all kinds of other people but he wasn't talking about us and again I that shows the disconnect," she told anchor Lawrence O'Donnell.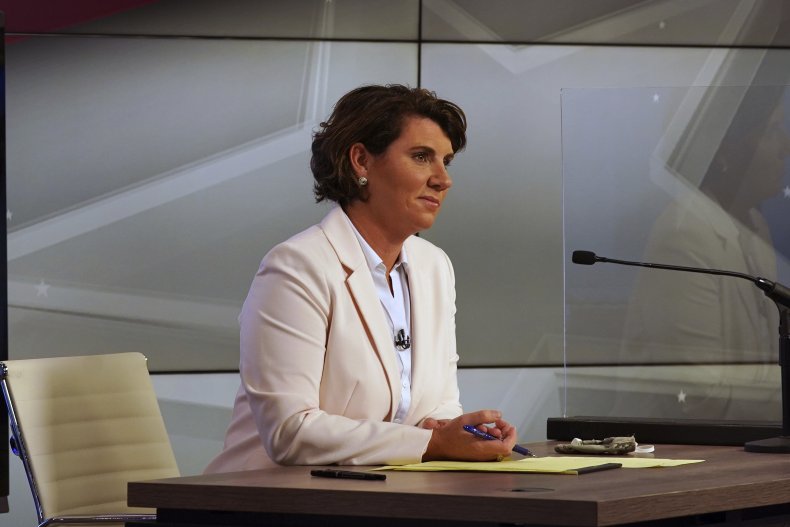 Referring to the pandemic's death toll in the U.S. and McConnell's position as Senate majority leader, she said: "This is the first major international crisis in the century where no one is looking to the United States for leadership and it's because we have such terrible leaders right now. And he is the perfect example of that."
"Kentucky is hurting and the country is hurting and we are in a moment of national crisis and the Congress that you built, the Senate that you built can't get it done. You can't get it done," she added, referring to him and the impasse over a coronavirus relief bill. Newsweek has contacted McConnell's campaign for comment.
Less than three weeks out from the election, McConnell, the longest-serving U.S. senator in the state's history, is clear of McGrath, a former Marine Corps fighter pilot. A poll by the left-leaning research group Data for Progress taken between September 14 to 19, puts him seven points ahead, 48 percent to 41 percent.
During Monday's debate in Lexington, McConnell defended his attempts to push for a coronavirus package, saying "Look, I know how to make deals. I made three major deals with Joe Biden during the Obama era. What the problem is here is the unwillingness of Speaker [Nancy Pelosi] to make a deal."
McConnell also took a swipe at McGrath's back story, saying: "I think her entire campaign is: she's a Marine, she's a mom and I've been there too long," after she made a dig at his 36 years in office.
University of Kentucky political science professor Steve Voss said that McGrath had given a better debate performance, while McConnell was better at presenting himself as a national politician.
"Purely based on debate performance, McGrath did a fabulous job. Better than I've ever seen her. She had the clarity. She had most of the memorable lines," he told the Louisville Courier-Journal.
"McConnell wants Kentucky voters thinking nationally, not locally, and he nailed the main points," Voss added.


Read More:Amy McGrath says Mitch McConnell is "perfect example" of terrible leader