When Carissa Moore won the World Surf League's 2019 championship, the fourth of her Hall of Fame career, she posed with the trophy in front of the Duke Kahanamoku statue at Waikiki Beach. Cameras clicked, preserving her achievement for posterity like Kahanamoku was memorialized in bronze.
Moore, 28, was gearing up to represent the United States and her home state, Hawaii, at surfing's Olympic debut. Kahanamoku was a swimmer who sped to five Olympic freestyle medals, three of them gold, between 1912 and 1924 – and balancing on a board was his side hustle. Kahanamoku toured American and Australian shores to exhibit the skill, enchanting crowds but failing to convince the IOC to add surfing to its summer slate.
Decades later, Moore learned to ride Waikiki's waves. As she mastered the fundamentals that Kahanamoku taught globally, she heard that this Hawaiian icon was kind and compassionate. His statue's arms stretch wide as if to welcome beachgoers regardless of their sex, race, or beliefs.
"I think that's a beautiful way to live," Moore said. "I just hope to use Duke as inspiration and spread a little bit of love and aloha when I'm at the Olympics."
Moore is among hundreds of rookie Olympians set to compete at the Tokyo Games in a first-time event. Delayed a year by the pandemic, skateboarders, sport climbers, karate athletes (known as karateka), and 3-on-3 basketball players finally get to show an audience of billions what they're about. (Freestyle BMX and women's Madison are new to the cycling docket, while baseball and softball return following a 13-year absence.)
Ahead of Friday's opening ceremony, theScore spoke to the Americans who headline three of these events about their paths to the games, their podium goals, and the stylishness of their chosen competition. (Said Moore, "There's a little bit more attitude or self-expression in each one of them.") Pioneers of these sports never went to the Olympics, and active stars turned their first ollies or air reverses long before such a dream became attainable.
"It's going to be crazy: me representing skating as a whole, me representing my people as a whole," U.S. Olympic skateboarder Zion Wright said. Viewers, he said, "are going to really open their eyes to it and know this stuff is possible."
The 'all-in' skater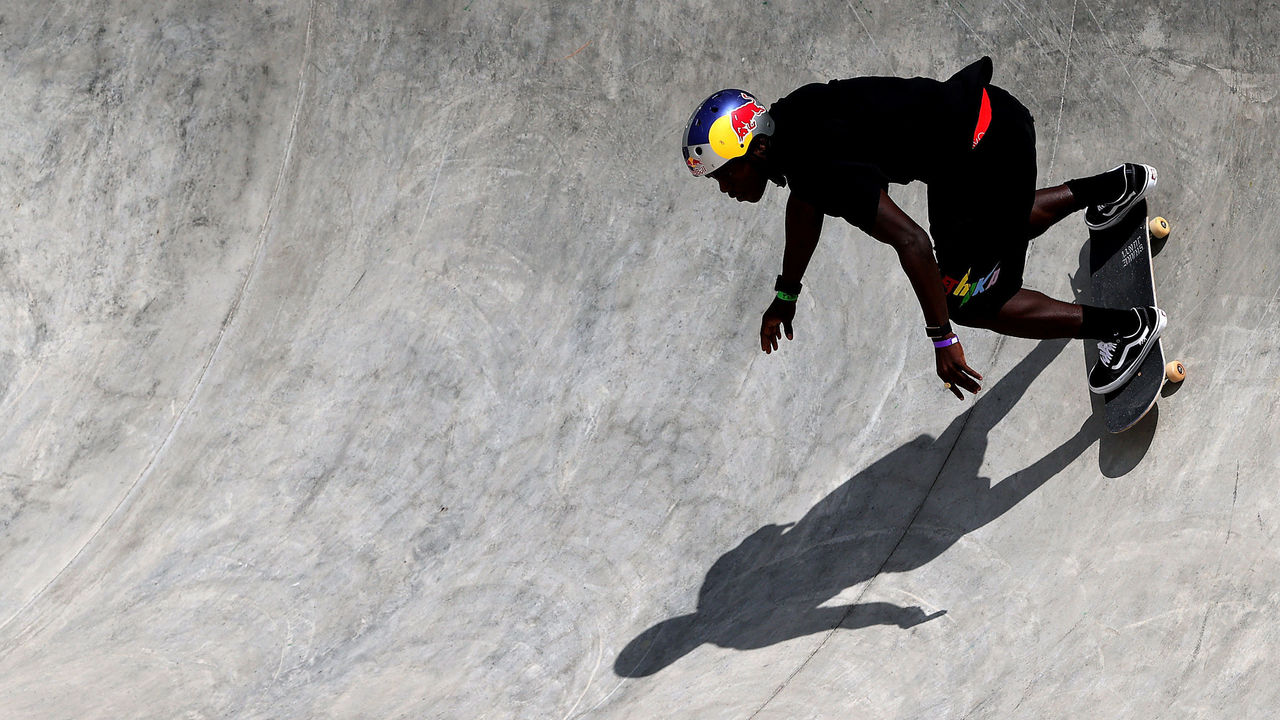 Mustafa Wright shook his son awake around 4 a.m., about the time he left home in Jupiter, Florida, to deliver the Sun Sentinel newspaper. Ten years old and hooked on skateboarding, Zion Wright rode daily at the Abacoa Skate Park after school, craving broader exposure. One night a sweet trick won him $60 in a contest. He offered it to his dad as gas money to take him to a showcase in Tampa.
Citing bills to pay, Mustafa said he couldn't spare the time. Then he changed his mind. Ditching work and sacrificing sleep, the Wrights drove 200 miles across the state and got face time with event organizer Ryan Clements, Zion Wright's eventual manager. Clements rewarded the effort, Zion's performance, and Mustafa's energy on the sideline with a $500 travel voucher.
This wasn't the breakthrough that enabled Zion, 22, to go pro; that would be his move to California, skateboarding's "mecca," at 16 to pursue top competition and major sponsorship deals. Chalk it up instead as a formative moment, the day his Olympic potential materialized.
"My dad did what he had to do and got us there," Wright said. "Look what happened from that."
Wright is one of 12 Americans readying to skate at Tokyo's Aomi Urban Sports Park, also the venue for sport climbing and 3-on-3 basketball. Olympic skateboarding is split into two disciplines: street and park. Street skaters scale benches, curbs, handrails, slopes, and stairs, aiming to wow the judges with moves that are…


Read More:American stars of new Olympic sports step into Tokyo spotlight